About Us
This project was completed by three Worcester Polytechnic Institute students, Katarina Lopez, Adam Tragellis, and Andrei Ilyashenko. Worcester Polytechnic Institute is a premier science and engineering university located in Worcester Massachusetts, USA. This project was part of an undergraduate thesis project at Worcester Polytechnic Institute. The undergraduate project is called the Interactive Qualifying Project (IQP), and is a project that challenges students to tackle problems that intersect science and technology with social issues and human needs.
This project was done in conjunction with the Dansk Cyklist Forbund (Danish Cyclists Federation) under the guidance of Michael Hammel, the webmaster at the DCF. We would like to thank him for his guidance and support in learning about Danish cycling culture.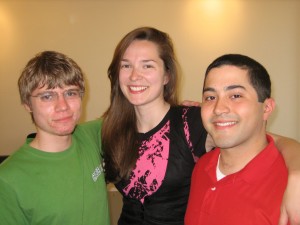 Please send feedback, questions, or suggestions to cycling.guide@gmail.com.